RESOURCE: USING ANKI TO LEARN JAPANESE EFFECTIVELY
If you haven't heard of Anki before now, I'm about to introduce you. It will definitely improve your ability to learn Japanese vocabulary, Kanji, and even grammar if used in the right way.
What is Anki SRS?
Anki is a free piece of software that enables you to create 'decks' of flashcards. It uses a technique called SRS (Space Repetition System) which basically means that the better you are at recognising a card, the less it will ask you to recall it. This basically does all the hard work for you!
How does it work?
You can either create decks or download one of the many decks available. Here is a preview of some of the downloadable decks available with a search of 'Japanese':
On each card there will be 2 'sides'. Side A will be, for example, the English word. Side B will be the Japanese equivalent. Think of the answer, then press 'show answer'. If it was easy to remember, click 'Easy' and Anki will take a while to ask you again. If it was hard, click 'hard' and it'll ask you within a few days. Click 'again' if you got it wrong entirely, and Anki will ask you within a few minutes.
Anki is also great for learning more complicated things such as sentences and grammar. You can add as much or as little explanation as you like - whatever works best for you.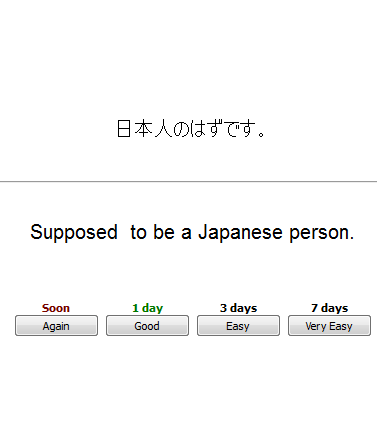 Anki has enabled me to practice and learn over 300 Kanji in 1 month. I simply made myself write the Kanji when the English word was displayed, and say the reading. I've also been using Anki to learn over 4000 vocabulary. It's really difficult to keep up with Kanji and vocabulary when you aren't constantly using them in an immersive environment, so Anki is a great way of sustaining this memory.
The best thing about Anki is that it is FREE, it has loads of plugins, you can design cards in many ways and even add images and audio files, and there's loads of user generated content for Japanese.
The only cons I've found is that the iPhone application costs around £20 ($25), and also Anki does require daily use. You need to be committed to it, or your 'due' cards will build up.
EXTRA NOTE: You can customize Anki to look awesome like Nihongolog does here.
tl;dr: Download and start using Anki and see if it works for you!
Notes:
tixicrawr reblogged this from daikiaomines